BMW Manufacturing Celebrates 6 Million BMWs and 30 Years.
Production of Six Millionth BMW Built in the United States.
30th Anniversary of Groundbreaking to Build Plant Spartanburg.

Spartanburg, S.C.  As the month of September ends, BMW Manufacturing has six million reasons to celebrate two important plant milestones. Earlier this month, associates at the South Carolina plant produced the six millionth BMW built in the United States. The historic vehicle is a Java Green Metallic BMW X6 M equipped with a 600-horsepower 4.4-liter BMW M TwinPower Turbo V-8 engine, Silverstone Full Merino Leather interior, and 21/22-inch M Star-spoke bi-color wheels. Due to its historic significance, this X6 M will remain at the factory and become part of the BMW historic collection. 
"Since June 2020, the team at Plant Spartanburg has produced one million vehicles," said Dr. Robert Engelhorn, president and CEO of BMW Manufacturing. "I'm incredibly proud of our associates and the resilience they have shown during this volatile time. We have world-class people who build world-class vehicles."  
The plant had a record six-month period in the second half of 2020, a record year in 2021 (433,810), and a very productive first half of 2022. As BMW Manufacturing has expanded, the rate of producing one million vehicles has increased. 
1 Millionth BMW – February 28, 2006 – Z4 M Roadster 
2 Millionth BMW – January 12, 2012 – BMW X3 xDrive35i
3 Millionth BMW – March 24, 2015 – BMW X5 M 
4 Millionth BMW – September 8, 2017 – BMW X3 xDrive M40i 
5 Millionth BMW – June 4, 2020 – BMW X5 M Competition 
6 Millionth BMW – September 2, 2022 – BMW X6 M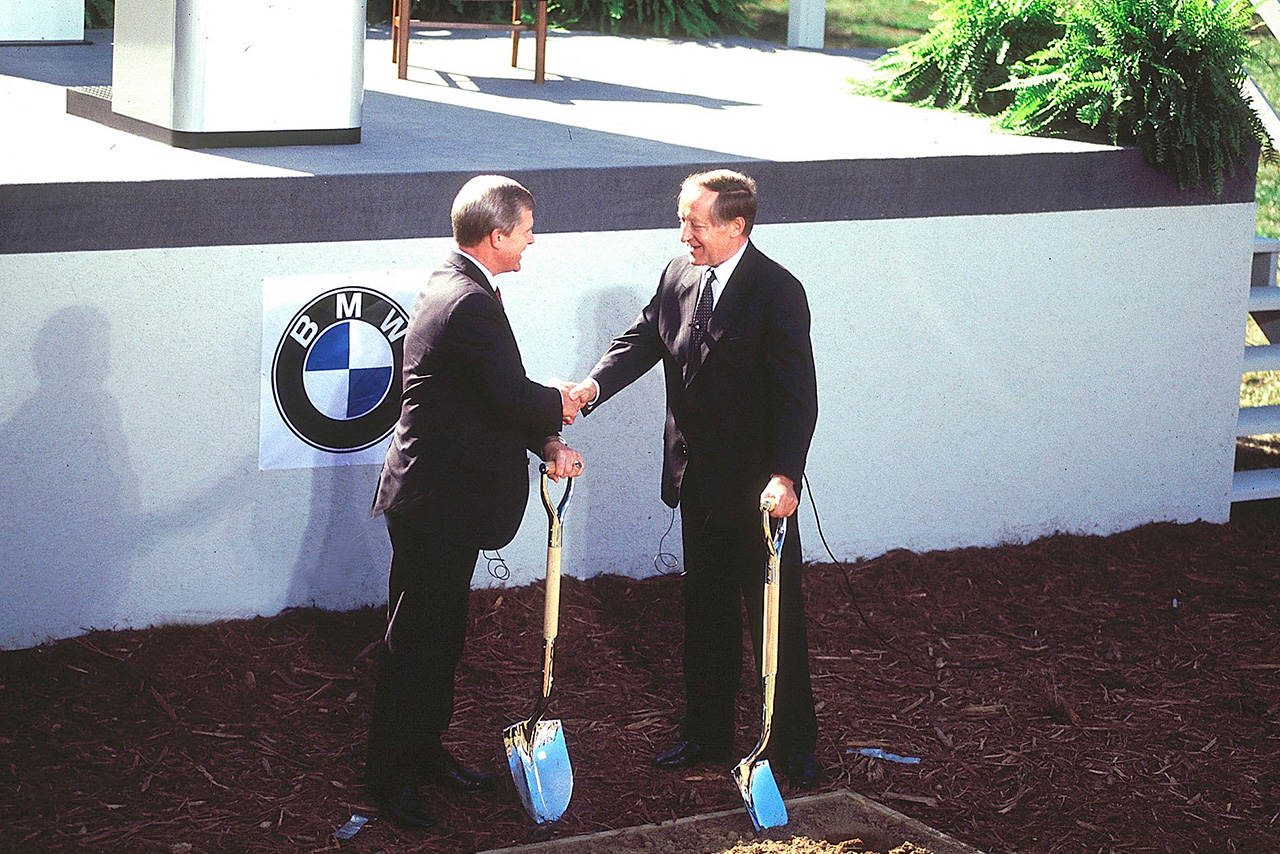 30 Years Since BMW Breaks Ground for First North American Plant
Thirty years ago today, September 30, 1992, the late SC Governor Carroll Campbell and BMW Chairman Eberhard von Kuenheim broke ground to build the company's first full manufacturing plant outside of Germany. The groundbreaking attracted hundreds of local and state officials as well as BMW executives from Germany and the United States. Even the late Johanna Quandt, whose husband Herbert helped save BMW from bankruptcy in 1959, attended the event. 
"When we broke ground 30 years ago, little did we know that BMW's legacy in South Carolina would be so profound," said Dr. Engelhorn. "We continue to add to that legacy today with our six millionth BMW. We also look to our bright future as we start production of our newest BMW model, the BMW XM, at the end of the year." 
On that sunny day 30 years ago, more than 160 BMWs packed with dealers from all over the country formed a caravan, driving from Atlanta, Georgia, through the countryside of South Carolina. When the caravan arrived near Greer, dozens of residents displayed "Welcome" signs, warmly greeting the dealers and their guests.
At the groundbreaking event, the spotlight belonged to Governor Campbell and Chairman von Kuenheim, who developed a friendship during their months of negotiations. They knew this decision would change the state and BMW.

Governor Campbell remarked, "When we turn a few shovels full of good Spartanburg County earth in just a few minutes, it will be symbolic of a new era of quality focused squarely on the next century of progress and based on the South Carolina philosophy of taking care of our families and our children. To the BMW family of associates around the world, I say welcome to our family."

"The decision that takes us to America is a major step for BMW," said Chairman von Kuenheim. "We know it is the right decision in view of the future demands. The right people for the task are already right here where we need them. Together, ladies and gentlemen, we shall make automobiles from South Carolina famous throughout the world."

Never has Chairman von Kuenheim's statement been more accurate than today, 30 years and six million BMWs later. 

Since 1992, the BMW Group has invested nearly $12 billion in its South Carolina operations. BMW Manufacturing is the largest BMW Group plant in the world, producing more than 1,500 vehicles each day and 433,810 vehicles in 2021, a record. The plant is an important part of BMW's global production network and plays a critical role in meeting the high demand for BMW Sports Activity Vehicles in the U.S. and around the world. Nearly 60 percent of its vehicles are shipped to about 120 global markets, making BMW the largest automotive exporter by value in the United States for eight consecutive years. The model portfolio includes five top-selling BMW X models, four Motorsport X models, and two plug-in hybrid electric vehicle X models. The first-ever BMW XM, the first electrified high-performance hybrid model in the BMW M portfolio, will begin production in late 2022. The factory has an annual production capacity of up to 450,000 vehicles and employs more than 11,000 people.