A Step Forward in Workforce Development: BMW Manufacturing Opens New Training Center.
Grows BMW's Training Strategy to Inspire, Build, and Upskill the Workforce.
Center Will Be the North American Training Hub for Future Technologies.
Robotics Training Area is Designed With Maximum Flexibility.
Outdoor Workspaces Complement BMW's ConnectedWorks Initiative.
Spartanburg, S.C.  BMW Manufacturing officially opened its new training center on Friday, with the goal of promoting creative learning, fostering innovation, and advancing technical skills in a rapidly changing automotive industry. The $20 million, 68,000-square-foot training center features multiple classrooms for both professional development and technical training, an amphitheater, and a unique concept of outdoor meeting and workspace that includes wireless capabilities.
"Our associates are rising to the challenge to make the BMW Group electric, digital and circular," said Ilka Horstmeier, member of the Board of Management of BMW AG, People and Real Estate, Labor Relations Director. "This new training center will give the entire Plant Spartanburg team the environment to learn and grow their careers and meet the demands of our customers worldwide. Through training in digitalization and future technologies, we will ensure that the BMW Group remains the leader in mobility and is an attractive workplace for future generations."
"This new training center will be instrumental in transforming Plant Spartanburg into a BMW iFACTORY and set new standards for flexibility, sustainability, and digitalization," said Dr. Milan Nedeljković, member of the Board of Management of BMW AG, Production. "Future leaders, innovators, and technicians will learn the concepts of future production to develop innovative solutions that will be integrated into plant operations here in Spartanburg and also in our global network."
The new training center continues BMW's education strategy to inspire, build, and upskill the associate workforce.
"The contributions our associates make to BMW are invaluable," said Dr. Robert Engelhorn, president and CEO of BMW Manufacturing. "We want to build a culture of empowerment and provide our associates with the right tools and training so they can continue to be successful. When they succeed, BMW succeeds."
"BMW is once again proving their unwavering commitment to our state's biggest asset – our workforce," said South Carolina Governor Henry McMaster. "This new training facility will ensure BMW technicians are equipped with the latest automotive technology and skills to meet the demands of the company's operations today and into the future. We applaud BMW for their continued investment in South Carolina and our people."  
Features of the New BMW Training Center
With 40 functional learning spaces, BMW's new state-of-the-art training center will provide an innovative and creative learning environment. Inside are areas for hands-on vocational training – welding, metal fabrication, machine tools – as well as advanced technical training for robotics and controls, mechatronics, and automotive technology. The robotics training area is designed with maximum flexibility; robot cells are on self-contained pallets that can be easily moved and plugged into an overhead electrical outlet.
The training center will also be the North American training hub for all future technologies to ensure associates master state-of-the-art skills to help set new industry standards.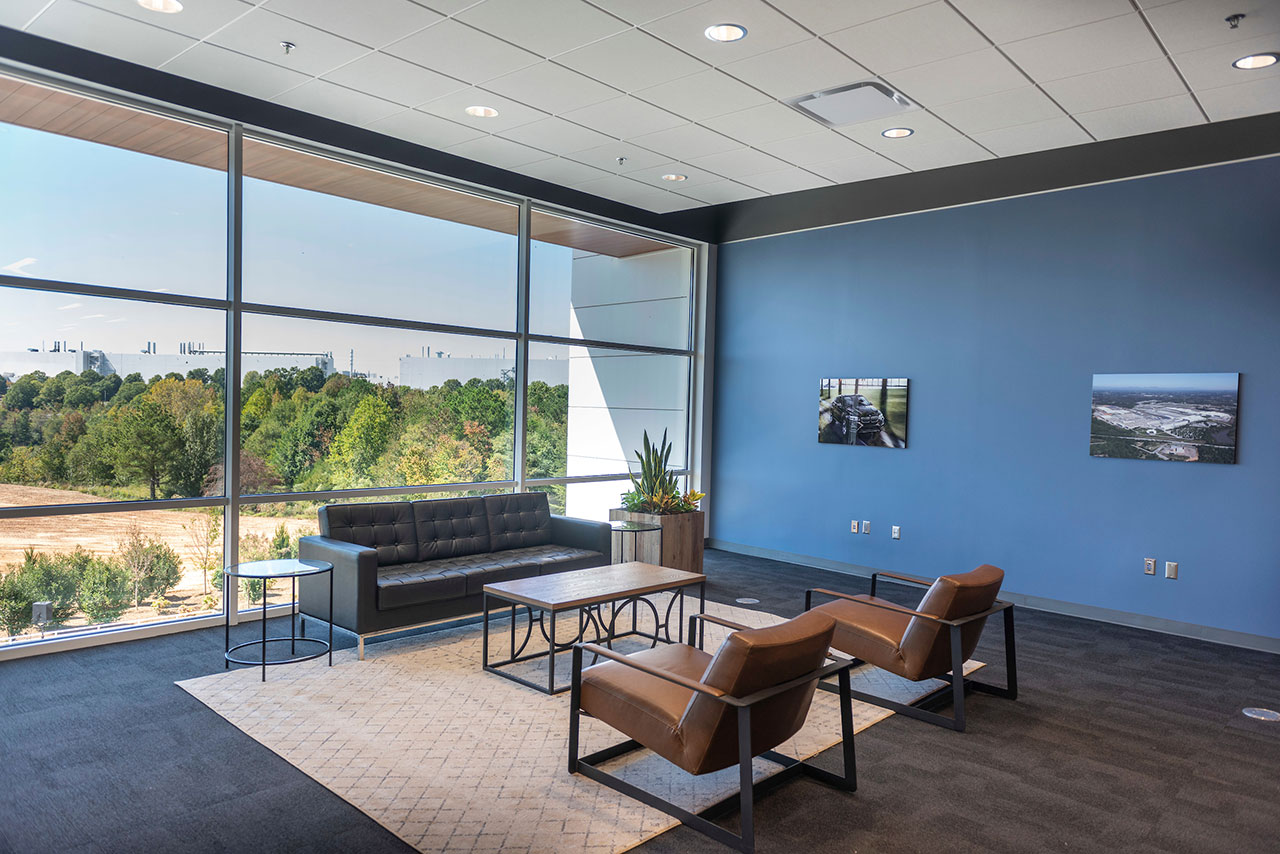 Along with areas for professional development and leadership training, there is defined workspace for augmented and virtual reality training and for advanced manufacturing in emerging technologies such as 3D printing and laser welding. There's also an innovation room where associates have a safe space to think, collaborate, and create a physical representation of their idea.
"We've created an inspiring learning environment that provides the foundational elements for a full and satisfying career at BMW," said Sherry McCraw, vice president of Human Resources. "There is also more complex training in areas such as advanced manufacturing and innovative future technologies that provide our associates with the unique skill sets that ensure BMW will be successful in the future."
The new training center will also be the home of the BMW Scholars, Plant Spartanburg's apprenticeship program for high school graduates pursuing an associate degree; BMW Rising Scholars, the apprenticeship program for high school seniors; Gen>NEXT, the co-operative and internship program for university students; and PACE, Professional Accelerated Cross-Functional Experience, a rotational program for professionals.
Creative Learning Environment
Bridging the gap between technical training and innovation are outdoor spaces for learning and team collaboration. Outdoor workspaces, wi-fi enabled, are available at the new training center for associates. It's part of the BMW Group's ConnectedWorks initiative for flexible, individual, and sustainable working environments. Alongside team spaces that encourage communication and interaction, there are also spaces associates can retreat to for concentrated working, as well as areas where they can recuperate and connect. Nearby is a walking trail, where associates can refresh and reenergize themselves.
"We want to ensure that the working spaces we offer facilitate collaboration and idea sharing that brings out the best in our associates," said Ms. McCraw. "Studies show that spending time in nature is linked to cognitive benefits and improvement in mood, mental health, and emotional well-being. This outdoor area is a wonderful space that energizes the mind, heart, and spirit."
Surrounding the back of the training center is a Carolina FenceTM, which complements BMW's biodiversity strategy. This fence incorporates both natural and cultural elements, which have been designated as symbols of the state of South Carolina. Some highlights include: a split rail fence, representing part of our state's rural history from the late 1800s; South Carolina's state flower, the yellow jessamine; blue granite, the state stone; Carolina Wren Houses, providing a habitat for the state bird to thrive; the state's official grass, Indian Grass; and the state's wildflower, the Goldenrod. The Carolina FenceTM will be designated as a Certified Wildlife Habitat by the South Carolina Wildlife Federation.
Additionally, in the area behind the new training center, 106 trees will be planted by associates, in partnership with TreesUpstate, representing 106 years of the BMW Group.  These trees will consist of eight native species and will begin the reforestation of this area into its natural state.
Using Sustainable Method to Create Office Furniture
While clearing the land for the training center site, BMW made a special effort to save trees so they could be reclaimed and repurposed as furniture for use inside the building.
"These repurposed conference room tables are actually part of Plant Spartanburg's history," said Paul Sinanian, manager of Training and Talent Programs. "They are rich with character and part of the legacy of our factory site."
Since 1992, the BMW Group has invested nearly $12 billion in its South Carolina operations. BMW Manufacturing is the largest BMW Group plant in the world, producing more than 1,500 vehicles each day and 433,810 vehicles in 2021, a record. The plant is an important part of BMW's global production network and plays a critical role in meeting the high demand for BMW Sports Activity Vehicles in the U.S. and around the world. Nearly 60 percent of its vehicles are shipped to about 120 global markets, making BMW the largest automotive exporter by value in the United States for eight consecutive years. The model portfolio includes five top-selling BMW X models, four Motorsport X models, and two plug-in hybrid electric vehicle X models. The first-ever BMW XM, the first electrified high-performance hybrid model in the BMW M portfolio, will begin production in late 2022. The factory has an annual production capacity of up to 450,000 vehicles and employs more than 11,000 people.